Exhibition model CH - XXL Pro single item no. 22
XXL Pro - Exhibition model with only minor optical blemishes. Assembled, fully functional, with warranty
Condition: Exhibition model unused, with only small scratches and dent on the lower panel and rear panel.

With six main burners, an infrared rear wall burner and a high temperature hob to the side this stainless steel gas grill provides maximum barbecue enjoyment for aspiring hobby chefs.
It also does well in an arbour, on a private terrace or of course, in a
...
Condition: Exhibition model unused, with only small scratches and dent on the lower panel and rear panel.
With six main burners, an infrared rear wall burner and a high temperature hob to the side this stainless steel gas grill provides maximum barbecue enjoyment for aspiring hobby chefs.
It also does well in an arbour, on a private terrace or of course, in a garden restaurant. That makes food from the grill a speciality and grilling a real experience. It even looks good at night thanks to interior lights and LED displays! Master BBQ
XXL Pro stainless steel gas grill wins everyone over with its functionality and elegance!
Delivered fully assembled!
Sink
Drawer
Corner-Element
We ship via freight service (curbside). Please provide a phone number when completing your order to your so that the freight service can arrange for delivery.
CHF 2,580.00
CHF 1,990.00
incl. VAT
Shipping costs: CHF 34.90
Features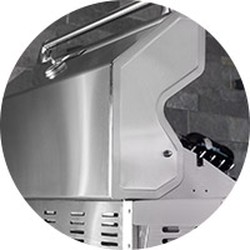 Double-walled recirculation hood
The robust double-walled stainless steel recirculation bonnet ensures optimum heat insulation and provides heat protection for the surroundings.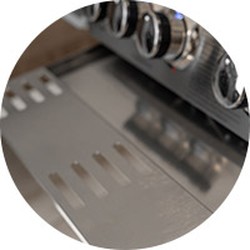 Large stainless steel grease drip tray
Excess fat is collected and can be easily removed by hand. Our tip: Cover the fat collection tray with aluminium foil to clean the tray even faster.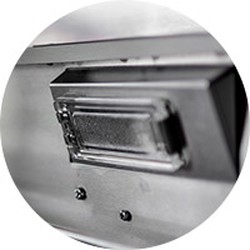 Interior lighting
Thanks to the interior lighting, nothing stands in the way of a night-time barbecue. with the two halogen interior lights, you can put your food in the right light.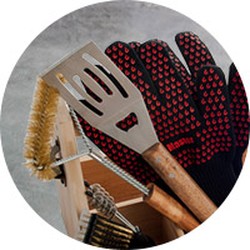 Wide range of accessories
Do you want to use your grill as a smoker? No problem: you''ll find the right smoker box in our accessory range. We also offer everything from pizza stones to the chicken seater to cleaning utensils; everything a fan of the barbecue could ask for.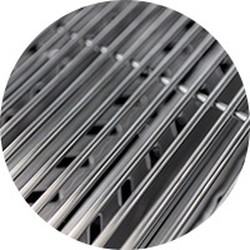 Stainless steel rack
BBQ Master offers you high-quality, extremely durable stainless steel gratings. But that''s not all: The warming grate is also made of stainless steel! For you this means that all our stainless steel gratings are food-clean and very easy to clean.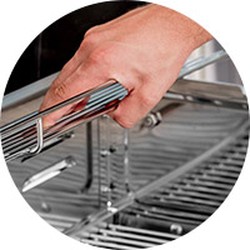 Stainless steel hot grid
Keep your food warm thanks to the stainless steel warming rack. Ideal for reheating or keeping food warm.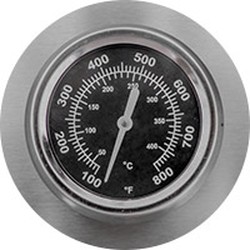 Built-in temperature display
The perfect cooking level is the prerequisite for crispy grilled meat. Smoking, grilling and searing has never been so easy! Thanks to the listed temperature ranges, you have the temperature in the grill under control at all times.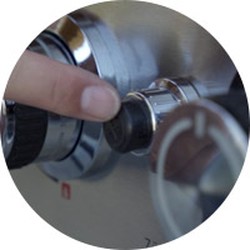 Electrical ignition system
The battery-powered ignition system ensures smooth, fast ignition of your barbecue.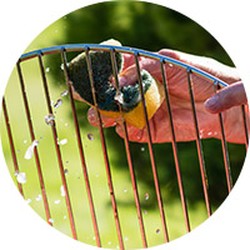 Simple to clean gas barbecues
The BBQ Master is extremely user friendly: just clean the burner covers and grill racks when they are still warm using a wire brush. For a deep clean after long use remove the burners in just a few seconds and clean the inside of the BBQ Master with the solvent «Greasecutter Fast Foam» (available as an accessory) efficient, deep cleaning.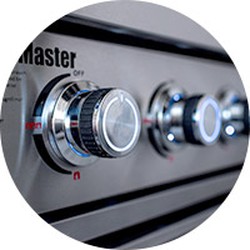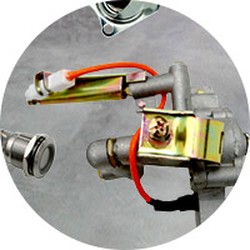 Replacement parts
We have a complete range of spare parts for all BBQ Master Grills. From burners to temperature indicators to ignition systems. If it had to be, we could build a whole grill from all the individual parts! Detailed information can be found in the category «replacement parts».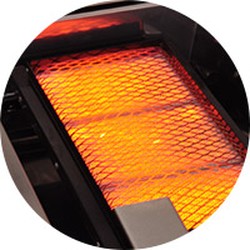 The high temperature grill area
Get the most flavour out of your food: on the high temperature grill area with temperatures of up to 800°C you can sear meat or grill delicacies which are done quickly such as perfect steaks or crispy tuna sashimi! The hob can be adjusted to two different heights - for enjoyment just like at the steakhouse!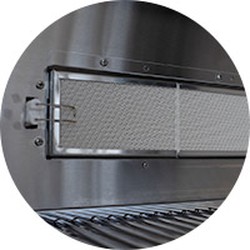 The infrared rear wall burner
What could be more delicious than a juicy chicken or a crispy roast from a gas grill? With an infrared back burner you can do both in the best possible way! Together with the two external main burners on a low level you will achieve the best results. In addition, you can also use the rear wall burner for indirect grilling - a gentle grilling method that works very well with the grill hood closed.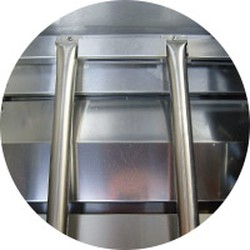 Double stainless steel burner
The double stainless steel burners are made of high-quality stainless steel. The gas is evenly distributed on both sides over the entire burner surface. This always guarantees a constant flame from front to back.